Citizen, Ambassador and Student are the three of the words I introduced at the first elementary chapel. This past week I was talking with various classes about citizenship, only this time in regards to Digital citizenship. I started in the fifth grade class by showing them the following poster.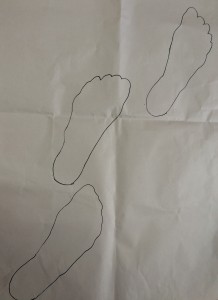 I asked the students, "Why do you think I drew this?" One student said, "You didn't want to break any copyright laws." At least they are thinking about the discussion we had on copyright. Not just "Cut" and "Paste" but give credit and use royalty free when possible. That wasn't my reason for drawing the footprints though, I wanted to talk with them about Digital Footprints. I remember reading a blog post  last year about digital footprints,unfortunately, I can't find the original blog post so the following is what I remember.
When we think of footprints we often think of  a sandy beach and waves washing  the footprints away. What is a digital footprint? Common Sense Media has a short but great video. Webopedia explains it as the trail that people leave online. However, digital footprints unlike footprints in the sand are not easily washed away. The writer of the blog post said that he thought the image of a tattoo was more appropriate than footprints. So I brought a photo of a tattoo. All of the students recognized it as a tattoo. What was very interesting was when I asked how do you get a tattoo, no one knew. There were several guesses, beginning with "there is a paper that you make wet and the tattoo sticks." Well that is one type of tattoo, but those do disappear rather easily. There were several other guesses but it is obvious that many of our students have no idea of how a real tattoo is obtained. I told them it involves needles and asked if they thought they could be removed. Most of them realized that a real tattoo is not easily removed. I talked to them about the things they post online are not easily removed. Yes, it is possible to delete something, but if someone has taken a screenshot and shared that, you may never know and not be able to delete it.
I showed them the whiteout and even whited out a line on my poster.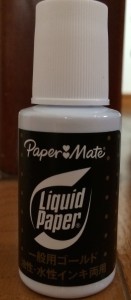 Although I covered it, it is still there. Things we post and delete are just like the line under the whiteout. If a person wants to search for it, they can probably find it.
I also showed them a tube of toothpaste. After squeezing some of the toothpaste out I asked if it was possible to put it back. Of course with a lot of effort you might replace some of it, but once it's out, there isn't much you can do to put it back. Our words and photos of the internet can be the same.
The 5th graders have a poster in their classroom "THINK – Truthful, Helpful, Inspiring, Necessary, Kind." (I think many adults would benefit from using that acronym before posting.)
Next I showed them a lock. They all know the importance having a secure password. We also discussed the importance of logging out especially on the school computers.
I showed a picture of a balance scale next. When I asked what it was, I got an elaborate explanation but not the name. I finally asked, "What is it called?" Sadly no one seemed to remember that they had worked with balance scales in math in 4th grade and several other grades. I also showed them an extension cord and asked what they could do when they were unplugged. This too was not as evident to 5th graders as I thought it would be. "Use the battery." "Plug it back in." Finally I asked, "What did you do on Saturday?" They came up with several suggestions of what to do instead of being plugged in and online.  We discussed the importance of balance between online and off line.
All of the 5th graders traced their own foot and wrote one or more ideas about how to be a good digital citizen. These created our bulletin board by the water fountains so all but the kindergarten students see it whenever they get a drink.
With the 2nd, 3rd and 4th graders I started by having them look at their classroom blog and make a comment. They all have an "email address" that is connected to a Google account although they don't have email access. For their name, I reminded them that we only want to use first names. This is the beginning of their digital footprint. We'll have some follow up lessons using Common Sense Media.
Today was a typhoon day with no school. To encourage some distance learning in the elementary school I created a Voicethread that I sent to each of the families and asked them to make a comment. Two of the 5th graders emailed me about difficulty logging in, I checked their accounts, responded to their emails and they have added their comments. This will probably be a lesson in the coming weeks on logging in and making a comment.
There are many things to think about in regards to a digital footprint, but I want students to remember:
Be safe online
If you are uncomfortable about something, tell an adult
Protect your passwords
THINK
Is it Truthful?
Is it Helpful?
Is it Inspiring?
Is it Necessary?
Is it Kind?
Do you know what kind of footprint you're leaving in the digital world?