This post is about my husband, Okio.
This week he received several awards sponsored by Dai-Ichi  Life Insurance Company, the Welfare Labor Ministry of the Japanese government, Asahi newspaper, and NHK. I was able to attend the award ceremony on Thursday, October 20th at Hotel Okura and go with him on Friday to the Imperial Palace to meet the Emperor and Empress of Japan.
There were 10 groups and 4 other individuals who also received the awards. Each recipient is working to improve the health and welfare of Japanese and also people from other countries. Like most if not all ceremonies in Japan there were a lot of instructions to follow and speeches that were given. I found it fascinating that each company/organization gave their own award. First the Welfare Labor Ministry called each recipient forward, read their award and presented them with a paper. Dai-Ichi Life Insurance then called each individual up and gave them  another paper. Asahi Newspaper called one representative up and gave him a framed artwork. NHK then called one representative up and gave him a vase. Each recipient will be getting the artwork and vase sent to them. One person from the recipients gave a thank you speech. Afterwards there was a stand up reception with delicious food by Hotel Okura.
On Friday, October 21st the representative of each group, the individual recipients and the spouses of the individual recipients were invited to the Imperial Palace to meet the Emperor and Empress. We needed to be at the Dai-Ichi Life Insurance building in Yurakucho by 14:05. Everyone was early!
We were given ribbons with our name and instructions that "No photos were to be taken inside the palace." The company will be posting some on their homepage. We rode a bus from the insurance building to the Imperial palace. There were chairs set up in the Kyuden plaza, where we had a group photo taken. This is the area where people can enter on the Emperor's birthday and New Year's to see the Imperial family. After the photos we were escorted into the building and could view the garden. We then were escorted to the second floor of the building to the matsu room or pine room. The walls had pine needle designs on them. Two chairs were at the front of the room and a rope was laid on the floor in about the middle. We were lined up, the order was decided  earlier and we actually were called one by one to go up the stairs and then line up. Someone from the Imperial household gave instructions and there was quite a bit of discussion as one recipient was deaf and had a sign language interpreter with him on where the interpreter should stand. There were cameramen on the side. After waiting for some time there was a knock and the door opened and in walked the Emperor, Empress and three attendants.
Someone, I think from the insurance company read a short speech and then the Emperor read a short speech. The Emperor and Empress came over to our line. He spoke to the one spouse who was in a wheelchair but then he was directed to Okio. The Emperor asked Okio about his research on asbestos and spoke to him for several minutes. The Empress asked if I was also a doctor, what country I came from and if I spoke Japanese. It was a wonderful honor to be able to speak directly to the Emperor and Empress. It was probably a once in a lifetime experience and I'm grateful that I could attend with Okio.
After the Emperor and Empress left we were given a tour of two of the hallways of the Imperial palace. The garden was impressive even without flowers in bloom. We also walked outside to view Nijubashi.
So why did Okio receive these awards and honor?
Okio has worked in the cancer field for many years. When we first met he was doing work on hepatitis and liver cancer. While in America at Fox Chase Cancer Center, 1989-1991, he worked on renal carcinoma and the idea if there are genes that cause cancer there may be genes that can stop or prevent cancer. Since returning from the States he has done a variety of research and work on cancer.(I can't keep up with all he has done.) But, after many years of working on the molecular level, he saw a need to work on the heart level.
About 10 years ago he was working with a group that developed an early detection kit for asbestos induced lung cancer. In response to the many patients, Juntendo University asked Okio to meet with patients. It was only to be a few times but there was such a positive response that Okio felt the need to begin what he calls, Cancer Philosophy Clinics and Medical cafes. These began about 8 years ago and there are now over 100 Cancer Philosophy Clinics and Medical cafes in Japan. They are sponsored by individuals, churches, companies, hospitals and various other places.
I have had the privilege of attending some of the Cancer Philosophy Clinics. They are not all the same, but they all seem to be meeting the needs of people. Okio regularly attends Higashikurume, Yodabashi Church, Ochanomizu Christian Center, and a few others where he does one on one counseling. At each of the cafes, the facilitators open up a space for people to share about their journey with cancer. One of Okio's favorite sayings is "You have a disease but you are not a patient." This and many of his other sayings have been published in a book that was released on Friday.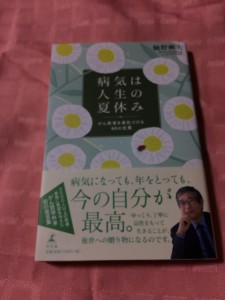 Okio has been greatly influence by Nitobe Inazo, Uchimura Kanzo, Nambara Shigeru, and Yanaihara Tadao. Two of these men, began having a cafe as a way to reach out to students. They understood that students would not come to their home, as president of a university or college, for advice but they could meet students in a neutral place over a cup of tea.
I've seen how meeting over a cup of tea with some cake or rice crackers and sharing the journey they are on has lightened the load of many cancer patients. My prayer for Okio is that he will be able to continue to dream big and share that vision so that more will receive the support and encouragement they need to keep on living and never give up.