This past week I was asked to give the children's message at church this Sunday. I asked Barbara what the scripture would be, but she hadn't decided yet and told me to pray and see how God would lead me. I knew that many of the kids had heard me talk about hats the other week in chapel but I was led to talk about a two-sided hat. (Two-sided hats are easy to fold!)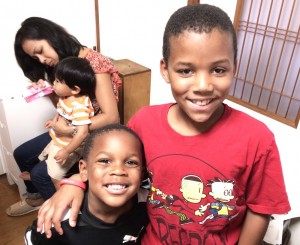 I began by asking 2 brothers to stand up and asked the kids. How are they a like? "They have the same skin color."
I had a boy and a girl stand up. How are they a like? "Same hair and skin color." I asked several children from one family to stand. "They're brothers and sisters."
Then I gave them a really difficult problem. 
How are Pastor Mas and this little girl a like? "They are both kind." (Which is very true.)
The point I was trying to make is we are all children of God. God loves each one of these people and everyone in this church. We are all his children, no matter what our age. He knew each one of us even before we were born. Psalm 139:13 says:
For you created my inmost being;  you knit me together in my mother's womb.
Today I want to just look at a two sided hat. On the one side it says
.
We always want to remember that we are a child of God and he loves us.
But because he loves us he has a job for us. He wants us to tell other people about him. At chapel I used a big word- Ambassador. Who knows what an ambassador does? One definition is that an ambassador is a representative. I think a representative is responsible for telling other people about what they represent. So if we are an ambassador for God what is our responsibility? To tell people about God. Does everyone have to do their job the same way? "No!"
God made each one of us unique and with different talents, gifts and abilities. Some people are singers, some are good at language, some are good helpers, some are very kind. God has given each of you a special gift or ability and he wants you to use it to share the good news of the gospel with others.
I have a hat for each of you. It has 2 verses on it.
The first one is Psalm 139:13 to
remind you that God knew you before you were born and loves you.
The other one is Matthew 28:19 to remind you that you have an important job to do for Christ. It doesn't matter how old or young you are.
Let's pray. Heavenly Father, thank you that you love us and knew us even when we were inside our mother's womb. You gave each of us special gifts and talents so that we can share the good news with others. Help us to always remember how much you love us and the job you have for us.
In Jesus' name, Amen
What was truly amazing about this message is that Barbara for her message was sharing from 2 Corinthians 5:14-21, the one place in the Bible that calls us to be ambassadors.  Barbara also noted that an ambassador believes in the one they are representing and knows the one they are representing. Maybe not "so amazing" since the one who calls us and sends us, also knows us and gives us the words to say.