I started this post in January and now it is April. Time to finish it and post it!
It's hard to believe that we are in the second week of a New Year(okay,maybe 3rd week). It has been 9 months since I last wrote on this blog! It is time to get back into the swing. I will be writing about more than just technology and elementary education. Those are still 2 topics near and dear to my heart. As my logo says: Empowering, Encouraging, Equipping. This first blog post will be about my "theme" or verse for 2014. "And who knows but that you have come to your royal position for such a time as this?" Esther 4:15. Now I don't have a royal position, but I was challenged last year by the end of this verse: for such a time as this. As I begin and go through each day, I want to be asking God what He has for me to do in this place and for these people? In July I wrote about going to Osaka to see Okio's cousins. Ann Voskamp in her blog A Holy Experience was where I first became to think about Mordecai's words and how they might apply to me. Although last year God used those words to guide me, this year I am making it my prayer for God to show me each day "What is the "this" You want me to do today?"
Recently I finished reading Jennie Allen's book, Anything. As I seek to do what God wants me to do, I pray, "Is there anything I need to give up? Am I holding on to something that God wants to use?" I don't know the answers to that but I have enjoyed sharing with my daughter, Mariya's DTS/YWAM team since their arrival in Japan in December.
April – Trying to Finish to post
New Year's was a wonderful time for our family as we were all together for the first time in 4 years.
February was IF:Higashikurume and lots of snow! In the fall, a friend, Heather and I heard about IF:Gathering and decided to hold one in Higashikurume. Mizuba church graciously allowed us to meet there on Friday evening and Saturday morning. Sunday evening was held at my house. Over the 3 days 17 different ladies came together to listen, worship, pray and fellowship. It was exciting to see people make new connections and to share with one another. Even to see how God used a snowstorm that cancelled many events to allow some of the women to attend our gathering.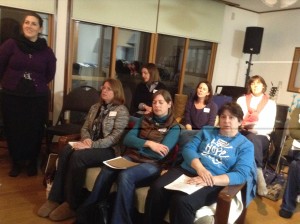 March was Okio's 60th birthday. In Japan, that is a special birthday called "kanreki." Okio had been talking about having a party for over a year. I was able to have a surprise party with over 30 people at our house, some of the people from his lab, from church, from the Cancer Philosophy Clinics and family and friends.
March was also our trip to England that I wrote about here.
Today is Easter. Yesterday was the Easter Egg Outreach at KBF. About 90 kids and 50 adults attended.
After KBF's Easter service 4 ladies were baptized. God has been so good and faithful in these first few months of 2014. I am excited and looking forward to what he has in store for me the rest of 2014. I know that no matter what: God is good, Jesus is a live and I'm forgiven. Blessings on you if you read to the end of this. It has been a long time coming.